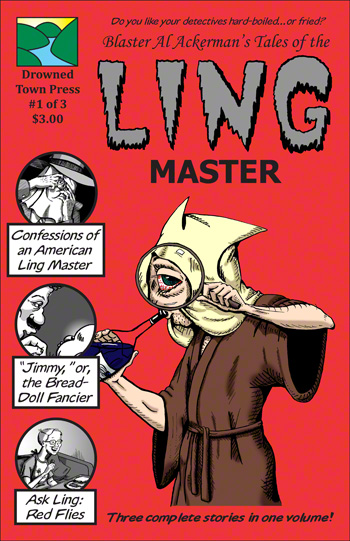 Blaster Al Ackerman's Tales of the Ling Master #1
Digest-sized (5 ½" x 8 ½") comic book, 28 interior pages. Black and white ink line art with digital toning and color cover. First edition published June 2009. Revised edition December 2020.
The authorized adaptation of three Ling Master stories by Blaster Al Ackerman, with art by E. J. Barnes:
"Confessions of an American Ling Master": Based on the very first Ling Master short story from Blaster Al Ackerman's pen. Looking for the Ling Master's origin story? This is the closest you're going to get.
"'Jimmy', or, The Bread-Doll Fancier": Recovering solvent addict Laurel M. learns a new hobby, and in the process, discovers the miracle of life in a suitcase. Does the Ling Master hold the key?
"Ask Ling: Red Flies": "Dear Ling Master: Why is it that I always seem to have to sneeze just when I have a mouthful of chewed-up carrots?" A case study in the psychological hazards of food allergies.
Story and art © 2009 Al Ackerman & E. J. Barnes.
Parental Warning: Contains partial nudity, violence, alcohol abuse, coarse language, sexual situations and references, food wastage and decay, squalor, rotten hygiene, references to solvent and narcotic abuse, and disrespect for military authority.
Recommended for readers age 14 and up.
We regret that Blaster Al Ackerman's Tales of the Ling Master #2 is out of print and not yet available for download. But we recommend you see Blaster Al Ackerman's Tales of the Ling Master #3!